LEGO Indiana Jones 2: Creator Hub Introduction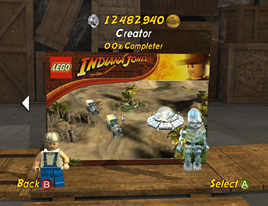 Creator Playset (click for larger image)
The Creator playset or hub is unlocked when you complete the 1st Story level in the Kingdom of the Crystal Skull Part 1. The Creator is the playset on the far right in the Main Menu. It includes 4 sections, each set up like a smaller playset within the big box. They are:
Level Builder – This tool set lets you create your own playable levels using objects and terrain from the main game. This site does not include a complete guide, but there should be enough information on the Level Builder page to help you get started and to unlock all the related Xbox 360 Achievements and PlayStation 3 Trophies.
Character Creator – Here you can create custom LEGO characters which you can then use in Build Your Own Adventure and Quick Play modes (below).
Build Your Own Adventure – This feature allows you to make playable adventures by combining levels from the main game and/or the custom levels you've designed in the Level Builder.
Quick Play – Choosing this playset lets you jump right into any level you've already completed using characters of your choice.
For details about each section, follow the links in the Creator Hub menu in the shaded box above. For tips on getting 100% completion in the Creator hub, see the Level Builder page.