LEGO Indiana Jones 2: The Adventure Continues - Vehicles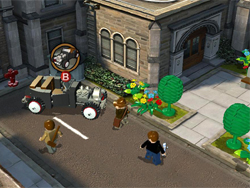 LEGO Indiana Jones 2 includes 42 unlockable vehicles ranging in size from tricycle to zeppelin, with dozens of bikes, cars, trucks, boats and aircraft in between.
Each playset's hub map contains a number of different vehicles, which can only be used in that hub. These must be found and purchased using the studs you've collected. Once unlocked, vehicles will allow you to move around the hub maps more quickly. Some will help you reach new areas, and a few can be used to complete races and unlock additional goodies like new characters.
All of the vehicles you've obtained so far are shown on the Playset Menu as well as on the Pause Menu in each hub. (See Controls and Menus.) The following list covers all available vehicles and includes the hub where each is found and its cost in studs. For details see the Vehicles section of each hub walkthrough.

Vehicle
Playset
Cost
Bicycle
Crystal Skull 2
7,000
Bike 'n' Side
Last Crusade
5,000
Biplane
Crystal Skull 2
Raiders, Last Crusade
250,000
100,000
Bus
Crystal Skull 2
15,000
Car Boat
Crystal Skull 3
5,000
Fire Truck
Crystal Skull 1
40,000
Flying Wing
Raiders
250,000
Fridge Car
Crystal Skull 1
35,000
Gondola
Last Crusade
10,000
Hotrod
Crystal Skull 1
30,000
Ice Cream Van
Crystal Skull 1 & 3
30,000
Jeep, Army
Crystal Skull 1 & 2, Raiders, Last Crusade
30,000
Jeep, Civilian
Crystal Skull 3
20,000
Jeep, Jungle
Crystal Skull 3
30,000
Jungle Cutter
Crystal Skull 3
5,000
Junk Boat
Temple of Doom
35,000
Lao Che's Plane
Temple of Doom
100,000
Motorbike
Crystal Skull 1 & 2
20,000
Motorbike, Blue
Crystal Skull 3
15,000
Motorbike, Green
Crystal Skull 3
15,000
Nazca Drifter
Crystal Skull 2
25,000
Nazca Racer
Crystal Skull 2
25,000
Passenger Jet
Raiders
100,000
Rickshaw
Temple of Doom
25,000
Sabre Jet
Crystal Skull 1
250,000
Scooter
Temple of Doom
20,000
Short Round's Car
Temple of Doom
30,000
Snowmobile
Raiders
15,000
Speedboat, Blue
Raiders
20,000
Speedboat, Green
Raiders
Last Crusade
20,000
25,000
Speedboat, Venice
Last Crusade
25,000
Staff Car
Last Crusade
40,000
Stunt Plane
Temple of Doom
100,000
Tank
Last Crusade
50,000
Tractor
Temple of Doom
35,000
Tricycle
Crystal Skull 1
5,000
Tuk Tuk
Temple of Doom
20,000
U-Boat 26
Raiders
30,000
UFO Ride
Crystal Skull 3
250,000
Zeppelin
Last Crusade
100,000